Bản tin hàng tháng OneStepVietnam – Tháng 5/2022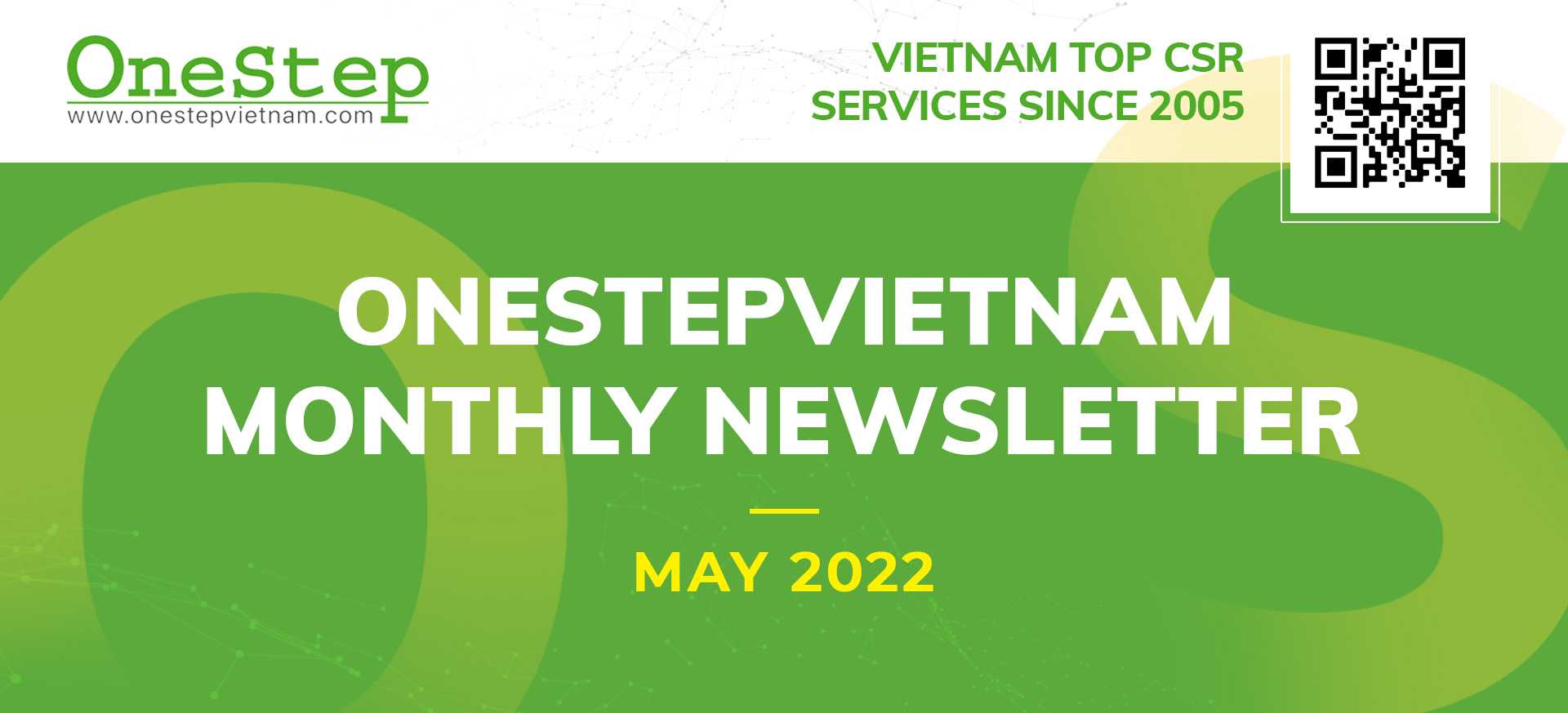 COVID-19 and ECONOMIC NEWS
During this month, there were 69,570 cases confirmed. In general, as of May 31, 2022, Vietnam's Ministry of Health confirmed a total of 10,719,379 cases of infection. The most severely hit areas are Ha Noi Capital, Ho Chi Minh City (HCMC), Nghe An Province, Bac Giang Province and Binh Duong Province.
There were 43,079 deaths announced due to the pandemic as of May 31, 2022 (37 cases in this month). On the other hand, around 9,462,298 patients were given the all-clear recoveries during the same time period.
Good outcomes have been achieved after a period of drastic and synchronous implementation of anti-Covid measures, safe, flexible adaptation and effective control of Covid-19. Therefore, the Ministry of Health has issued an official document which put a stop to health declarations by inbound passengers as well as domestic passengers from April 2022. On May 12, 2022, The Government issued Official Telegram No. 416/CD-TTg. According to this telegram, Covid-19 test requirements before entering Vietnam are suspended from 00:00 of May 15, 2022. The Ministry of Health still closely monitors Covid-19 situations and promptly provides guidance on appropriate Covid-19 prevention and control.
In Southeast Asia, Cambodia, Singapore, Indonesia, Philippines and Thailand have also suspended this regulation.
Source: Ministry of Health, Online Newspaper of the Government of the Socialist Republic of Vietnam and Thuvienphapluat
NEW LEGAL REQUIREMENTS
Official dispatch No. 1399/LDTBXH-VL on Receipt and settlement of unemployment allowance on the National Public Service Portal
In order to make the provision of online public services and support employees to carry out procedures quickly and conveniently, The Ministry of Labor, War Invalids and Social Affairs sent dispatch on receipt and settlement of unemployment allowance on the National Public Service Portal to local government on May 04, 2022.
In order to register unemployment allowance, employees shall register/login the National Public Service Portal at the link https://dichvucong.gov.vn/p/home/dvc-trang-chu.html. Then, choose "Giải quyết hưởng trợ cấp thất nghiệp"", fill in form No. 1 and upload termination decision.
After receiving the employee's information transferred from the National Public Service Portal, the social insurance agency is responsible for checking the employee's information. When the application is approved or rejected, the system sends an SMS notification to the employee and displays relevant information and documents on the National Public Service portal.
Source:Thuvienphapluat
ONESTEPVIETNAM NEWS
OneStepVietnam employees work-from-home and provide remote services to customers
All assessors of OneStepVietnam are vaccinated and now allowed to travel in all areas of Vietnam. We have conducted in-person assessments as usual, remote services including consultation and virtual assessment will still be conducted for some factories during May 2022.
We have been in association with our new customer which mainly works on recycling plastic and their projects aim at cleaning the environment for a better future.
OneStepVietnam team – May 2022