Bản tin hàng tháng OneStepVietnam – Tháng 3/2023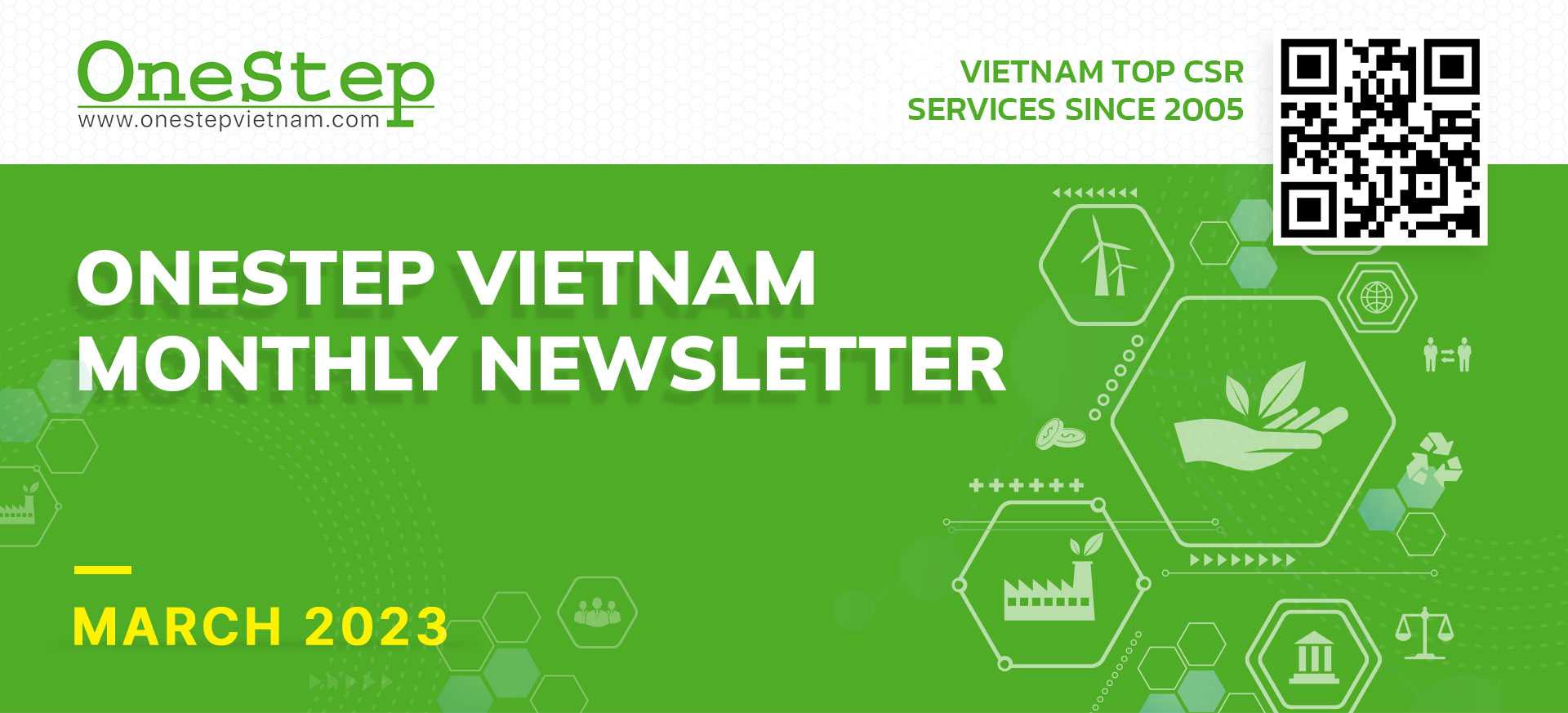 ECONOMIC NEWS
Viet Nam's GDP expanded 3.32 percent in January-March period, the second growth rate in the last 12 years, the General Statistics Office (GSO) reported. The Vietnamese economy is expected to grow by 6.3 percent this year, the World Bank predicted.
In the first three months, export turnover decreased by 11.9 percent on year to US$79.17 billion while import value fell by 14.7 percent to US$75.1 billion. In particular, the export turnover of textile products reached US$7.199 and footwear reached US$4.314, corresponding to a decrease of 17.4% and 18.6% respectively compared to the same period last year.
Source: General Statistics Office of Vietnam and Online Newspaper of the Government of the Socialist Republic of Vietnam
NEW LEGAL REQUIREMENTS
Circular No. 25/2022/TT-BLDTBXH on Provision of Personal Protective Equipment (PPE) in Work
This Circular was issued on November 30, 2022 and will take affect from April 1, 2023. The Circular No. 04/2014/TT-BLDTBXH will be expired on the same day.
1. Eligibility for PPE
Employees working in environment where they are exposed to dangerous and hazardous factors as below shall be provided with PPE:
– Exposure to physical factors that do not meet hygiene standards.
– Exposure to toxic dust and chemicals.
– Exposure to toxic biological factors:
  + Toxic and infectious viruses, bacteria, harmful insects;
  + Faeces, wastewater, garbage, sewers;
  + Other toxic biological factors.
– When working with equipment, tools, machinery with risks to occupational safety, hygiene; working in a position prone to occupational accidents; working at height; working in underground structures or places with poor air supply; working in mountains, caves, or other dangerous and hazardous working conditions.
2. Rules for providing PPE
– Employers must assess and control dangerous, hazardous factors at workplace as per the law; adopt technology solutions, occupational safety and hygiene techniques, equipment in order to eliminate or minimize effects of dangerous and hazardous factors, and improve working conditions before providing PPE.
– Employers shall list and provide PPE for employees in accordance with the list under Appendix attached hereto.
3. Rules for using PPE
– Employers must provide instructions to allow employees to proficiently use PPE in accordance with manufacturers' instructions and inspect the use of PPE.
– Employees must use the provided PPE accordingly while working. Violations shall be met with disciplinary actions depending on level of violation as prescribed by working regulations of their workplace or the law.
– Employers must resupply employees with new PPE if their previous PPE is lost, damaged, or expired. Employees are liable for compensation if their PPE is lost or damaged without justifiable reasons in accordance with working regulations of their workplace. Upon expiry of the PPE or when employees are reassigned to other tasks, employees must return their PPE at request of their employers and sign the transfer form.
ONESTEPVIETNAM NEWS
In March 2023, OneStepVietnam had successfully made a new business association with a client from Switzerland in sporting goods and also conducted the assessment for the requested factory to be complied with their Code of Conduct and the national requirements.
In the very first week of March 2023, we implemented the living wage project on behalf of a brand from France in sporting goods for the international non-profit organization – Fair Wage Network with flying colors.
In the same period of time, OneStepVietnam has made the remarkable milestone for providing the diversified services to different clients and factories for 18 years, nearly 2 decades dedicating to the sustainability development for those in need. For more details about our celebration, you can have a look here to share the joy with us.
To mark this unforgettable memory, we are gladly to have our verifier body announced for the Higg FEM with ID: 136477 from now on. We are eligible to conduct the Facility Environmental Module Verification (FEM Verification). If you wish to know more about our Higg FEM verification services and what are our new offers for this, do not hesitate to click here to explore further.
OneStepVietnam team – March 2023